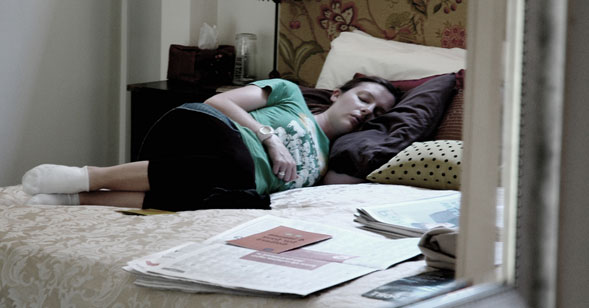 The Effects Of Sleep On Weight Loss And Exercise Performance
Getting enough sleep can have a big impact on both weight loss and exercise/sport performance. Research from a number of studies has shown a link between sleep deprivation and weight gain. Separate studies on athletes have also shown that getting more sleep leads to better sports performance.
Sleep and weight
Research has uncovered a link between sleep and the hormones that influence our eating behaviour – ghrelin and leptin. Ghrelin is responsible for our feelings of hunger, and leptin lets us know when we are full. Research has shown that when people are sleep deprived, ghrelin levels increase  and leptin levels decrease, which means people end up eating more than their body actually needs – food cravings increase and the feeling of fullness decreases.
Sleep deprived people not only crave more food, they tend to choose snacks that they might not necessarily eat if they were not tired – mainly high calorie sweet, fatty, salty or starchy foods.
So it is easy to see how the combination of the lack of sleep and the craving for unhealthy food, caused by hormone imbalances, can lead to long-term weight gain.
However, don't think sleeping a few more hours each night will solve your weight problem, as it won't. To achieve your weight loss goals you need to eat healthily, exercise, and get a good night's sleep.
Sleep and exercise performance
Sleep deprivation has profound physiological effects on athletic performance, which includes impaired muscle function, visual reaction time (e.g saving a goal in soccer), and auditory reaction time (e.g reacting to a starter pistol).
Research has also shown a link between sleep deprivation and decreased aerobic endurance. This is due to the decrease in the storage, conversion and metabolism of glucose, which is a key energy source for aerobic performance.
Perceived levels of exertion are also affected by sleep deprivation. Studies have shown sleep-deprived athletes will often feel more fatigued than they actually demonstrate. Absence of sleep will also produce a greater level of cortisol (the 'stress hormone'), which has an adverse effect on people's mood. Elevated cortisol levels may also may also interfere with tissue repair and growth, which overtime may affect an athlete's ability to respond positively to heavy training.
Conversely, research has shown that getting more sleep leads to better sports performance. Researchers speculate that this is because deep sleep is when the growth hormone is released, which stimulates muscle growth and repair, bone building and fat burning, and recovery.
So how much sleep do you need?
Experts typically recommend adults getting between seven and nine hours of sleep a night (adolescents and teens need a little more).
To work out how much sleep you need, experts suggest to sleep as long as you want for a couple of days (you'll need to do this on a weekend, or on a holiday) without using an alarm to wake up. Your sleep pattern should then stabilise and you'll find yourself waking up after the same number of hours each morning (give or take 15 minutes). Once you work out how much sleep you need, set a regular time for sleep and get into a steady routine.
In my next post, I will give you some tips on how to regularly get a good night's sleep.