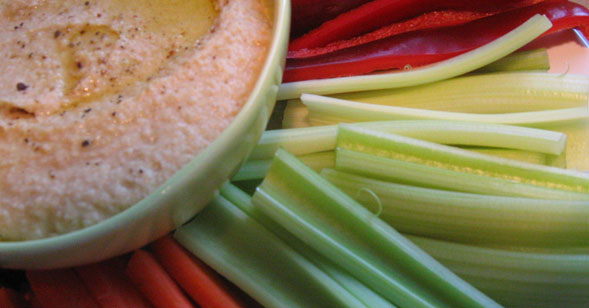 Healthy Hummus Recipe
Hummus is a great dish if you are looking for a healthy, yet tasty snack. Hummus' main ingredient is chickpeas. Chickpeas, like all legumes, are a valuable source of protein and are low in saturated fat. They are a good source of fibre, complex carbohydrates, and vitamins and minerals; such as B1, B2, niacin, calcium and iron.
Below is a hummus recipe that you could make, to have on hand as a healthy snack.
Ingredients:
2x 400gm cans chickpeas, drained
3 tablespoons tahini (found in the health food aisle of your supermarket)
1/4 cup lemon juice (approximately 1 lemon)
1/4 cup water
1/4 cup olive oil
3 teaspoons cumin
2 teaspoons cajun seasoning
2-3 garlic cloves, crushed
Instructions:
Place all ingredients into a mixing bowl and blend together with a handmixer. You could also use a food processor. Blend together until smooth. Add extra lemon juice or water if the mixture is too thick.
Makes approximately 2 cups. Store in fridge for up to 5 days.
Serve with vegetable sticks such as celery, carrot and capsicum.