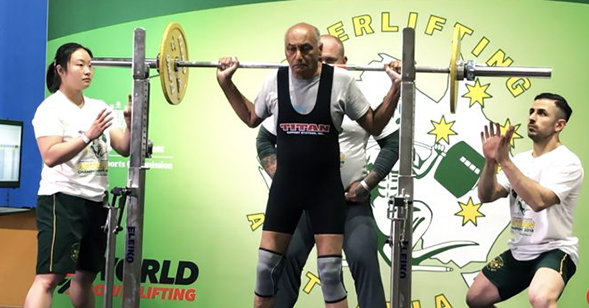 It's never too late to lift
---
I've been a personal trainer for over 10 years and a competitive powerlifter for 8 of those years. In all that time, what has inspired me the most, is seeing people pursue things they once thought was never possible, or was even on their radar! The people that inspire the most, are not World Record holders (but they do inspire me!) but they are the people that break down stereotypes and show the world, and themselves, what is possible.
One such person is my client Ravi. Ravi has been training with me for 5 years now. We are very different characters, but at the same time we share a love of bad jokes, lame t-shirts and lifting.
At the age of 70, Ravi for the first time in his life, stepped foot in the gym, after being recommended by his massage therapist to see me, to seek out some personal training in preparation for his knee replacement surgery. And so began his lifting and fitness journey.
For 2 years, Ravi developed his overall strength. He was committed and focused with his training, and he knew that if he wanted to continue doing the things he enjoyed doing, he needed to build some strength. Then came the knee surgery, with both knees being replaced in 2015.
Once the Drs gave him the all clear, he was back at the gym. Working on building back his lost strength and improving his confidence in his ability. Slowly and surely he gained his strength and improved his knee mobility to levels that exceeded his ability before the surgery.
Then came powerlifting.
Being a competitive lifter myself, I saw that Ravi might find a new interest in Powerlifting. With my support, he signed up for his first powerlifting competition last year, at the age of 74. In this competition he squatted 37.5kg, benched 45kg and deadlifted 102.5kg. His deadlift was his strongest lift, but from having both knees replaced, being able to squat to depth with 37.5kg on his back was the real win!
At the age of 75, Ravi has now competed in 4 powerlifting competitions, the latest being the Australian Master Powerlifting Championships where he went 9/9 with a 55kg squat, 50kg bench and a 115kg deadlift!
I often hear Ravi tell people how much I have changed his life over the past 5 years. But really, he has changed mine. I am lucky to be able to call him my friend. Ravi is a true testament that age (and 2 metal knees) is no barrier to pursuing new dreams.
As I say to myself and others, Be Like Ravi.