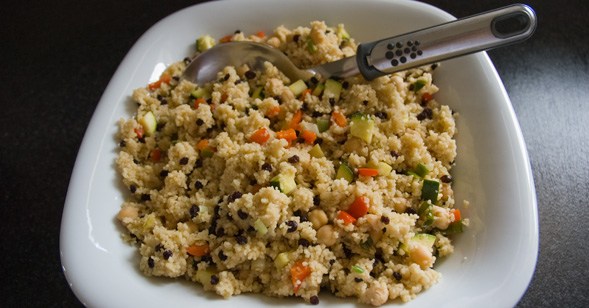 Cous Cous Salad Recipe
Cous cous is a great versatile pasta that can be used as a side dish or made up into a nice healthy salad. The recipe below is one that I make quite regularly. I have it as a lunch dish by adding a small tin of flavoured salmon or tuna, take it as a side dish to a BBQ, or serve at home for dinner as a side to grilled chicken, fish or steak.
This recipe makes a large bowl that lasts me approximately 3 lunches (but I am a big eater!) and is enough to take to a BBQ as a shared side salad. It is very quick and easy to make. It can be served warm or cold – so it is great for any season.
Ingredients:
2 cups of instant cous cous (found in the pasta aisle in your supermarket)
2 cups of boiling water mixed with 2 teaspoons of powdered vegetable stock
1 red capsicum, diced
1 zucchini, diced
2 shallots, chopped
1 can of chickpeas, drained
1/2 cup of sultanas, raisins or currants (I prefer currants)
2 teaspoons each of dried cumin and coriander
1 tablespoon of olive oil
Juice of 1 lemon
Pinch of sea salt
Instructions:
Place cous cous and currants into a large bowl and pour in water and stock mix, cover bowl and leave standing for 5 minutes.
Place a non-stick fry pan on the stove over a medium heat.
Add olive oil, shallots, cumin and coriander. Stir for 1 minutes.
Add capsicum and zucchini, and stir for 4 minutes.
Fluff up cous cous mixture with a fork and then add to fry pan. Mix in all ingredients.
Turn off heat on fry pan. Add lemon juice, chickpeas and a pinch of sea salt. Mix into other ingredients.
Serve straight away for a warm side dish, or place into a large salad bowl, allowing it to cool, then cover and put into the fridge to serve later as a salad dish.
Enjoy!