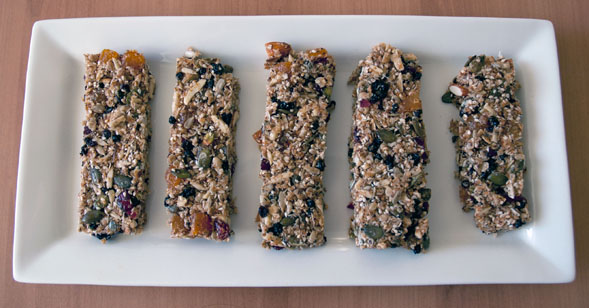 Healthy Muesli Bar Recipe
It can be hard to find snacks that are both nutritious and tasty. Our supermarkets are lined with chips, biscuits, confectionery and cakes – which may be nice to eat, but are not healthy, and are not ideal daily snack foods.
This week one of my personal training clients asked me about healthy snack options, and I suggested muesli bars, using my own personal recipe. These muesli bars make for a great snack which is loaded with healthy ingredients, and one that you can enjoy every day of the week.
The recipe below is made up of some of my favourite dried fruits, nuts and seeds. These include:
Dried cranberries – Rich in antioxidants.
Currants – Rich in antioxidants.
Dried apricots – Full of dietary fibre and beta-carotene. A great source of vitamins A and  C,and the minerals magnesium, iron, calcium, phosphorus, and potassium.
Almonds – High in monounsaturated fat and are a good source of protein, vitamins B2 (riboflavin) and E, and the minerals calcium, iron and zinc.
Pepitas (pumpkin seeds) – Rich in protein, iron, zinc and phosphorous.
Sunflower seeds – High in polyunsaturated fat and rich in the minerals potassium and phosphorous. Sunflower seeds also contain protein, iron, and calcium.
Sesame seeds – Good source of protein and calcium, and also contain iron and vitamin B3 (niacin).
Ingredients:
1 cup oats
1 cup desiccated coconut
1/2 cup wheat germ (found in the health food section of the supermarket)
1/2 cup sesame seeds
1/2 cup sunflower seeds
1/2 cup pepitas
1/2 cup slivered almonds (or whole raw almonds, or a mixture of both)
1/2 cup cranberries
1/2 cup currants
1/2  cup dried apricots (diced)
3/4 cup honey
1/2 tablespoon brown sugar
Directions:
Line a 3cm deep, 20cm x 30cm baking pan with baking paper.
Place oats, wheat germ, coconut, sesame seeds, sunflower seeds, pepitas and almonds into a non-stick fry-pan, over a medium heat. Stir for approximately 5-7 minutes (stirring is important, as not to burn the ingredients).
Turn heat off and add the cranberries, currants and dried apricots, and mix all ingredients together.
Place honey and brown sugar into a saucepan over a medium heat. Mix together until the sugar is dissolved. Take mixture off the heat once it starts to bubble.
Pour the honey mixture into the fry-pan and mix all ingredients together.
Pour the mixture into the tray. Wet your hands with cold water and pat the mixture down evenly into the tray (using wet hands will mean that you won't get muesli bar mixture sticking to your hands).
Allow mixture to cool for 15 minutes.
Once cooled, place tray in the fridge to allow the muesli bar mixture to harden. Leave in the fridge for approximately 30 minutes.
Take out of the fridge and cut into desired muesli bar size (for me, this recipe makes 16 muesli bars)
Store in an airtight container (separated by baking paper) in the fridge for up to 10 days.
You can substitute the nuts and seeds that I use, for any of your favourites – dried pears, walnuts, pistachios etc. There are plenty of ways to keep this recipe interesting!
Enjoy.