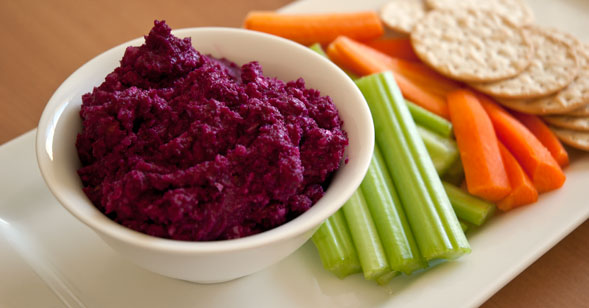 Beetroot Dip Recipe
To maintain a healthy diet, it is important to have healthy snack readily available – to avoid bingeing on things you really don't want or need. A favourite snack of mine is to have a healthy dip with some sliced raw vegetables or a couple of water crackers.
I have already posted my healthy hummus recipe, and here is another dip recipe for you to try – a fantastic (and easy) beetroot dip.
The two main ingredients of this recipe is beetroot (of course!) and almonds. The main nutritional benefits of beetroot is that it contains valuable antioxidants, no fat, and is a rich source of folate. Almonds are high in monounsaturated fat (a 'good' fat) and are also a good source of protein, vitamins B2 and E, calcium, iron, and zinc.
Ingredients:
1 x 800gm can baby beetroot, drained
150gms raw almonds
2 handfuls of shredded parmesan cheese
Cracked black pepper to taste
Instructions:
Place all ingredients into a mixing bowl and blend together with a handmixer. Blend together until almonds are reduced to small pieces.
Makes approximately 2 cups. Store in an air tight container, in the fridge, for up to 5 days.
Serve with vegetable sticks such as celery and carrot, and/or water crackers.
Enjoy!