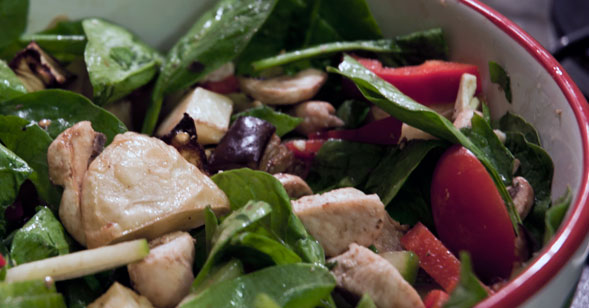 Chicken, Roast Potato And Eggplant Salad
Im an avid salad lover but with the days getting cooler (atleast for us down in the southern hemishpere), salads aren't always as tempting as they are in the summer months. However, last night I made a chicken, roast potato an eggplant salad last night which is perfect for any season, as it can be served warm or cold. See the recipe below. I hope you enjoy it as much as I did!
Ingredients:
2 large potatoes, peeled and cut into 6-8 pieces (depending on size of potato)
1 medium eggplant, diced into similar size pieces as the potatoes
1 chicken breast, skin removed, fat trimmed and diced into bite size pieces
2 large handfuls of baby spinach
80gms reduced fat fetta cheese, cut into bite size pieces
1 small cucumber, sliced
150gms baby roma or cherry tomatoes
1/2 red capsicum, sliced
5-6 mushrooms, sliced
1/2 avocado, cut into bite sized pieces
Dash of olive oil
Dash of balsamic vinegar
Instructions:
Pre-heat oven to 180 degrees.
Place potato and eggplant pieces on grease proof paper on a baking tray and lightly spray them with olive oil spray. Bake for approximately 25 minutes.
Lightly spray a frying pan with olive oil spray. Place pan over a medium heat. Cook chicken pieces for approximately 10 minutes.
In a large salad bowl combine all salad ingredients.
Add chicken and roasted vegetables once cooked to salad bowl.
Add olive oil and balsamic vinegar to the salad and combine all ingredients.
This recipe will serve 3-4 people as a main meal (3 people if you live in my household!).
For more salad ideas you can check out my cous cous salad and tabouleh recipes.