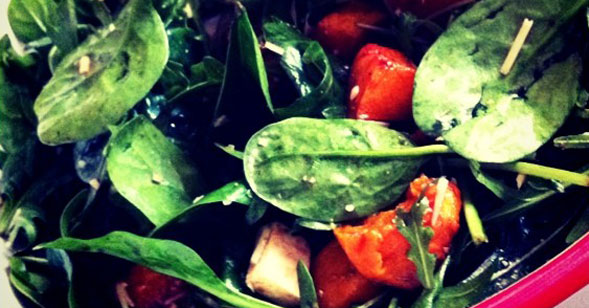 Baby Spinach, Roast Pumpkin and Feta Salad
I recently attended my beautiful niece's 1st birthday party, and my sister asked me to bring along a green salad. As it is currently winter, I decided to make a warm salad to suit the cold Canberra climate. The salad was a hit with the guests, and so I thought I would share it.
Ingredients:
1/2 large butternut pumpkin, deseeded, peeled, and cut into bite size pieces
40gms pine nuts
160gms baby spinach leaves
100gms reduced fat feta, crumbled or cut into small pieces
Handful of shredded or shaved parmesan cheese
Dash of balsamic vinegar
Dash of olive oil
Instructions:
Pre-heat oven to 180 degrees (note: I have a fan forced oven).
Place pumpkin pieces on grease proof paper on a baking tray and lightly spray them with olive oil spray. Bake for approximately 25 minutes.
Lightly toast pine nuts in a dry frying pan.
Place pumpkin, feta and spinach in a bowl.
Add a dash of olive oil and balsamic to the salad, and toss ingredients together.
Garnish with parmesan cheese and toasted pine nuts.
This recipe will serve  5-6 as a side dish or 3-4 as a light lunch.
For more salad ideas you can check out my chicken, roast potato and eggplant salad, cous cous salad and tabouleh recipes.