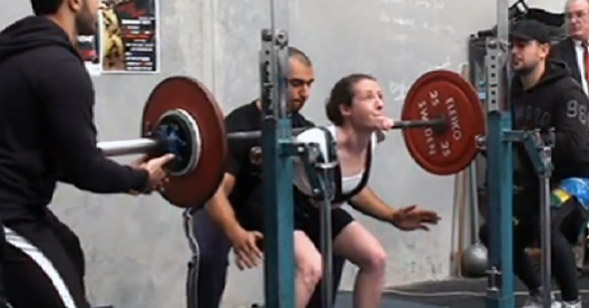 Hercules of the West Powerlifting Championship
On July 17th, I competed in my first powerlifting competition, since I injured my back in October last year, at the Hercules of the West RAW Championships at Adonis Athletics in Parramatta, NSW.
After my injury, it was almost six months before I could get back in to lifting. I suffered from two bulging discs from a bad deadlift, and then in December last year,  I dropped a loaded bar on my face, from which I dislodged three teeth and had cartlidge damage to my nose. Let me just say, it was not my finest lifting moment.
But with my face all healed, and my back on the mend (but still not 100%) I decided to get back in to competition for the sole purpose of building back my confidence in competitive powerlifting.
With the help of my coach, Peter Sutton at ACT Barbell, I started back training in April, with nearly 12 weeks to prepare for the competition. I eased my way back in to heavy lifting, and by the time the competition came around, I felt ready.
It ended up being a very successful competition. I weighed in at 51.3kg and so easily made the 52kg weight cut-off. I managed a PB squat of 90kg, a bench of 50kg and a 95kg deadlift. My deadlift still has a way to go before it is back to where it was before my injury, but I was still happy with what I achieved. All these lifts gave me a total of 235kg, which is 30kg more than what I needed to qualify for nationals, and only 20kg off Elite II status, which would qualify me for competing at the Oceania and Commonwealth titles!
Thanks to the North Sydney Powerlifting Club, below are two YouTube clips of the competition. In these videos you will see all three of my squat and bench attempts.
Squat
0.38 minutes – Squat 1: 70kg
2.41 minutes – Squat 2: 80kg
5.34 minutes – Squat 3: 90kg
Bench
0.56 minutes – Bench 1: 45kg
3.24 minutes – Bench 2: 50kg
6.05 minutes – Bench 3: 55kg (no lift)
My goal now is to get the additional 20kg in time for a competition in early December. I am heading to the USA for a month this weekend, and so will continue my training while on holidays, and hopefully in my next competition post, I will let you know that I have made the 255kg total that I need!