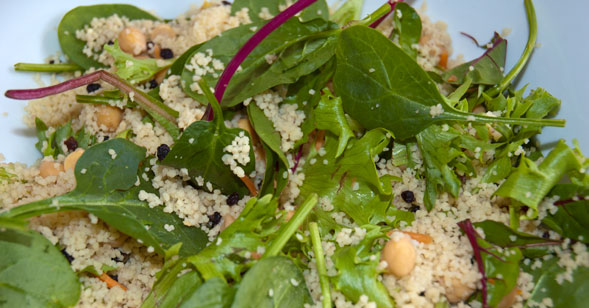 Quick and Easy Cous Cous Salad
Today for lunch, I have made myself one of my favourite quick and easy salad recipes and I thought I would share it with you. This cous cous salad recipe is not just quick and easy to make, but most importantly, it is healthy and delicious!
This recipe makes a large bowl, that lasts me approximately 3 lunches. It also works as a great side dish.
Ingredients:
1 1/2 cups of instant cous cous (found in the pasta aisle in your supermarket)
1 1/2 cups of boiling water mixed with 2 teaspoons of powdered vegetable stock
1 can of chickpeas, drained
1/2 cup of  currants
100gms of baby spinach or mixed salad leaves
1/3 cup of slivered almonds
1 tablespoon of olive oil
Juice of 1 lemon
Instructions:
Place cous cous and currants into a large bowl and pour in water and stock mix, cover bowl and leave standing for 5 minutes.
Fluff up cous cous mixture with a fork.
Mix in chickpeas and almonds, followed by salad leaves.
Add olive oil and lemon juice and mix in to the salad.
Extras:
To have this as a lunch meal, I will tend to add a small tin of flavoured salmon or tuna (discarding the excess oil), or a tin of plain tuna (in springwater – so no oil) and add in a drizzle of balsamic vinegar. YUM!
For other healthy salad ideas try my:
Enjoy!