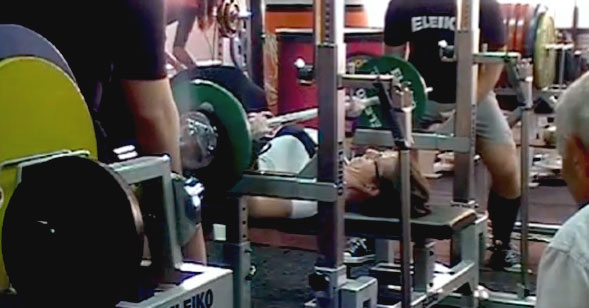 Matti Tikka Powerlifting Challenge
On 3rd December, 2011, I competed in the last powerlifting competition for the year, the Matti Tikka Powerlifting Challenge, in North Sydney, following a successful competition I did back in July, 2011.
I was hoping to achieve an official Elite II status at this competition, which would allow me to qualify for both the Oceania and Commonwealth Championships. To achieve this status, I needed to lift a total of 255kg. This would have been 20kg more then I lifted at the competition in July. Unfortunately it didn't happen. However I did increase my total by 10kg, with a total of 245kg – my best competition to date, so I was still pleased with my efforts.
What let me down in the competition, was my deadlift. Following my accident (which happened over a year ago), I have lost confidence in performing this lift. Before my accident, my best competition deadlift was 107.5kg, but since coming back from my injury, I have been stuck at lifting under 100kg. But i'm not going to let it get me down.
The next competition for me will be the Australian Titles on 31 March, 2012. Between now and then, I'm going to focus on not stressing so much about my deadlift, adjust my deadlifting technique slightly, and just keep on training. I'd like to think I will get the 255kg total at the Australian Titles, but I'm not going to put pressure on myself this time. If it doesn't happen, it's no big deal. My aim is just to do better then what I did this time. I know the 255kg will come at some stage.
Thanks to the North Sydney Powerlifting Club, below are three YouTube clips of the competition. In these videos you will see all three of my squat, bench press, and deadlift attempts.
Squat
3.10 minutes – Squat 1: 85kg
6.20 minutes – Squat 2: 95kg
9.25 minutes – Squat 3: 100kg (no lift)
Bench Press
2.42 minutes – Bench Press 1: 47.5kg
6.00 minutes – Bench Press 2: 52.5kg
9.02 minutes – Bench Press 3: 55kg (no lift)
Deadlift
1.24 minutes – Deadlift 1: 87.5kg
3.35 minutes – Deadlift 2: 97.5kg
5.50 minutes – Deadlift 3: 100kg (no lift)