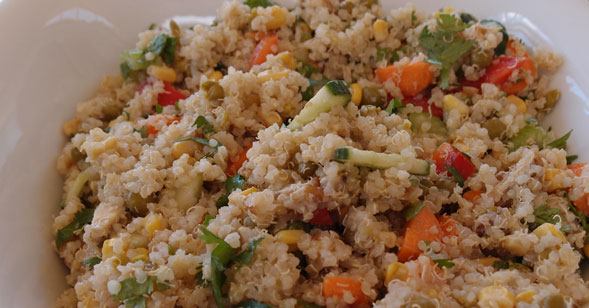 Quinoa Salad Recipe
I have recently become a great fan of quinoa, a pseudo grain that unlike other grains, such as wheat and rice, it is high in protein and is considered a complete protein as it contains all nine essential amino acids. In addition to protein, quinoa features a range of other health-building nutrients, including fibre,  phosphorus, magnesium and iron.
I have started using quinoa as a salad base, and below is a recipe I put together for my lunch today, and thought it was worthwhile sharing.
Ingredients:
1 cup quinoa (most likely found in the 'health food' section of your local supermarket)
1 cup celery, chopped
1 carrot, peeled and sliced
1/2 red capsicum, sliced
1/3 telegraph cucumber, sliced
1/2 cup walnuts, chopped
1/4 chopped parsley, mint or coriander
1 400gm tin of mixed corm and peas, drained (optional)
Dressing:
1 lemon, juiced
1/4 cup olive oil
1 garlic clove, minced
1 tablespoon balsamic vinegar
Directions:
Place the quinoa in a saucepan with 3 cups of water. Place on stove, and bring to the boil.
Once water is bubbling, turn heat down to low, and place lid over quinoa. Cook for a further 15 minutes.
Once cooked, all water should be evaporated. Place in a salad bowl and set aside to cool.
Once quinoa is cooled, mix in salad ingredients.
Blend dressing ingredients with a whisk or shake in a jar.
Mix in dressing.
Cover and store in fridge, or serve immediately.
Note: The quinoa can be cooked ahead of time and stored covered in the fridge.
For other healthy food ideas, check out my other recipes.