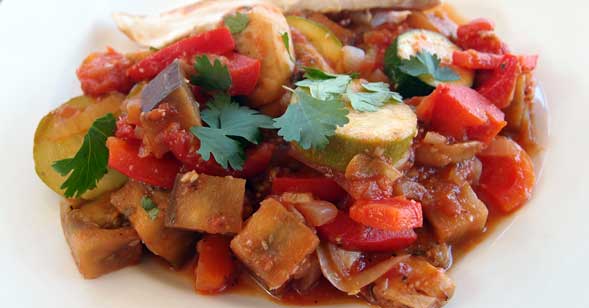 Ratatouille Recipe
Ratatouille is a healthy Mediterranean dish that is great both hot or cold, so perfect for all year round. I made this dish last night for dinner, and served it with grilled chicken. YUM!
Although this isn't a traditional way to make ratatouille, it's quick and easy (and not to mention, healthy!). For a vegetarian alternative, serve with chickpeas mixed in.
Ingredients:
1 tablespoon, olive oil
1 onion, chopped
2 cloves garlic, chopped (or 2 teaspoons of minced garlic)
300gm mushrooms, sliced
2 zucchinis, sliced
1 eggplant, diced
1 large red capsicum, seeded and copped
1 x400gm can chopped tomatoes
2 tablespoons, lemon juice
1 tablespoon, dried basil
Black pepper and pinch of fresh parsley or coriander to serve
Directions:
Heat the olive oil in a large frying pan and fry the onion and garlic over a medium heat for 5 minutes, or until soft.
Add the mushrooms, and stir occasionally for 5 minutes, or until the mushrooms are soft.
Add the zucchini, eggplant and capsicum and cook for a further 5 minutes.
Stir in the tomatoes and basil, cover and simmer, stirring occasionally for 10 minutes.
Season with freshly ground black pepper and stir in lemon juice.
Remove from heat to serve, and garnish with fresh parsley or coriander.
Serves 4.