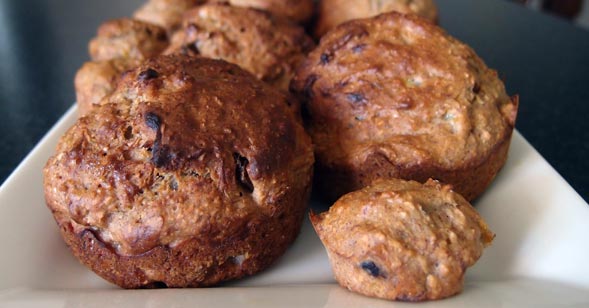 Banana And Date Muffins
Along with my banana bread recipe, here is another recipe for a healthy morning or afternoon snack.
Ingredients:
1 cup wholemeal self-raising flour
1 cup wholemeal plain flour
2 teaspoons cinnamon
1 teaspoon vanilla essence
1.5 tablespoons honey
3 eggs
15 pitted dates (chopped)
4 bananas
Instructions:
Preheat oven to 180C.
Mash bananas and mix in beaten eggs, honey, vanilla essence and dates.
In a separate bowl mix all the dry ingredients.
Combine the banana mix with the dry mix, and stir.
Pour the mixture in to a non-stick muffin pan and cook in oven for 30 minutes (or until cooked when tested with a skewer).
This recipe made 6 large muffins and 12 mini muffins.
Enjoy.