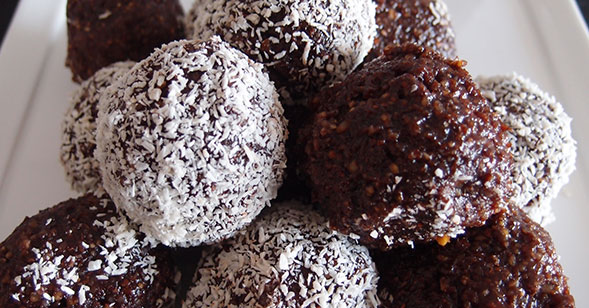 Almond and date protein balls
Nutritious treats can be hard to find, so I have decided to make my own.
These protein balls are delicious! Try them out yourself. But remember, even though they are packed with great nutrition, they are still a treat to have in moderation.
Ingredients:
330g raw almonds
60g vanilla protein (Make sure you use a high quality product. I use Ultimate Nutrition's Prostar Whey…. delicious!)
16 pitted dates
2 tablespoons cocoa
1 tablespoon vanilla essence/natural vanilla extract
1/2 teaspoon cinnamon
1/2 cup water
Desiccated coconuts (optional – used to coat the balls)
Instructions: 
In a food processor add almonds, protein powder, cocoa and cinnamon and mix for 3-5 seconds on a medium to high setting, until all ingredients are ground together.
Add dates and vanilla essence and combine in to the mixture on a medium to high setting for approximately 10 seconds.
Set the food processor to a low speed and add the water slowly over 30 seconds until the mixture comes together and looks sticky.
Roll into 3cm diameter balls and roll in coconut if desired.
Store in fridge.
This recipe makes approximately 12 balls. Stored in the fridge, they will last up to 4 weeks.
Do you have a healthy treat recipe? Share below in the comments section!