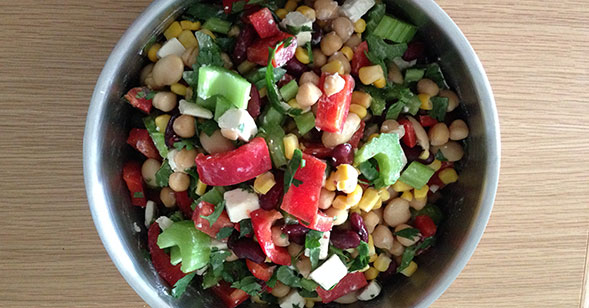 Quick and easy bean salad
Legumes are staple ingredients in my diet – kidney beans, chick peas, lentils, butter beans etc. I love them. Not only are they quick and easy ingredients to add to meals, but they also provide an amazing amount of nutrition. They contain an array of vitamins, minerals and phytochemicals that optimise good health. They are also a great source of fibre, which helps regulate blood glucose and insulin levels.
Legumes can turn a boring salad into a delicious, nutritious and satisfying meal. Below is a simple recipe. It literally takes only a few minutes to make and it's fantastic! Use this as a base to create your own bean salad – add a wide variety of vegetables. There are no rules when it comes to adding or subtracting vegetables to this recipe!
Ingredients: 
3x400g four bean mix can, drained
1x400g corn kernels can, drained
1 red capsicum, diced
3 celery stalks, chopped
125g low fat fetta
1/2 bunch coriander, chopped
1 tablespoon balsamic vinegar
1 tablespoon flax seed oil (or olive oil)
Instructions: 
Mix all salad ingredients together in a bowl. In a small cup mix balsamic vinegar with the flax seed oil and pour over salad as a dressing. Stir the dressing through. Serves 4.
I had this delicious salad with kangaroo rissoles last night. You can have it as a side dish with just about any protein – grilled chicken, fish or even mix in a can of tuna. Delicious!