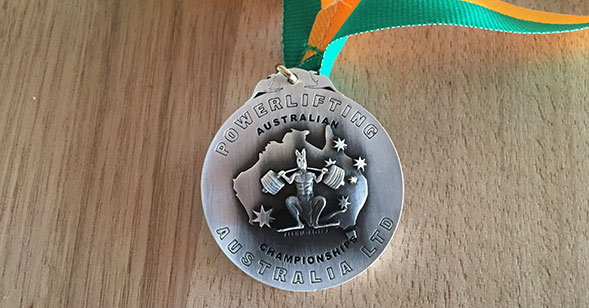 Australian Powerlifting Championships – Worlds here I come!
Three weeks ago I had the privilege once again to compete at the Australian Powerlifting Championships. The last few years I have really enjoyed competing at this competition as it is a great event to catch-up with all of my powerlifting friends from across Australia.
Coming back from The Arnold, my training had been below average. Lifts I used to find easy were hard, I felt sore and out of my groove. With only five weeks between competitions, I decided that at this competition I would be happy with a similar result as The Arnold, and after that I would have more time to build up my lifts.
Finally the week before competition I was starting to feel better, and knew i could hit the same lifts. On competition day, I went 7/9 and finished with a 115kg squat, 60kg bench press and a 130kg deadlift. Equalling my result from The Arnold and winning silver in the 52kg weight class.
Below is my best squat of the day, 115kg. I went for 117.5kg in my third attempt, but it wasn't to be. My best competition squat is 120kg and since my hamstring injury I haven't been able to get it above 115kg, but I know my strength is on it's way up!
With this result I made the final team for the Classic Powerlifting World Championships to be held in Salo, Finland in June. It has been a dream of mine to compete at the World Championships, alongside the best lifters in the world and to say that I am honoured and excited to be there amongst the best, is an understatement!
My goal for Worlds is to better all three of my lifts from the Australian Championships, and to soak up all that a world competition has to offer!