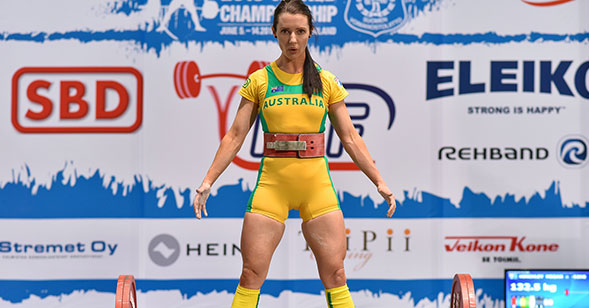 2015 Powerlifting World Championships
Tomorrow will mark three weeks since I competed at the Classic Powerlifting World Championships in Salo, Finland. Wow. How time really does fly! Competing on the World stage been a dream of mine since taking up the sport and it is an experience I will cherish forever. Meeting, lifting beside, and watching the world's best lifters has now sparked a stronger desire in me to become a better lifter. I love this sport, and watching and talking to other lifters has given me greater motivation to be the best possible lifter I can be.
For those that didn't catch the live stream of the competition, below are clips of my lifts from the day. I missed my final squat and bench press which was disappointing (it's always disappointing to miss lifts!), but I finished the day with a personal best (PB) deadlift and a PB total of 310kg. I was super happy with how the competition finished. You can't be disappointed with a personal best!
I remember finding my second deadlift really tough. Looking back on the the video footage you can even hear the commentators having doubts about whether the bar was going to leave the floor! I decided to not go for what I had planned as my final lift, but to bring the number back to a 2.5kg increase to be certain I could get a PB. I told myself no matter how hard and how long it took to get the bar off the ground, I was not going to let go. When it came to the lift, it was incredibly hard to get off the ground, the bar felt cemented to the floor, but all I kept thinking was 'don't let go'. When the bar finally did move, I was shocked, because I had been so focused on not letting go, I hadn't even thought far enough ahead to when the bar would actually move! But once the bar was off the floor, I knew I had it.
It was a great way to finish the competition. It was also great to have my mum in the crowd and for her to come give me a big hug after it was all over. It was an amazing experience for both of us.
My mum and I had a two week holiday after the competition in Finland, Sweden and Norway. It was a wonderful trip and it was nice to have a break from lifting. I have now come back home feeling refreshed but super motivated to get back in to training!
Squats

Bench Press

Deadlifts