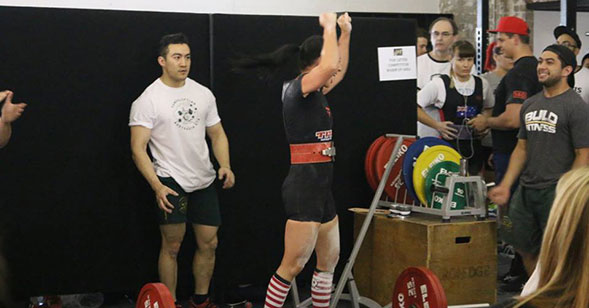 Final comp of 2015: Top Lifter V
This post is a little late, but I thought I would still share the videos of my final comp of 2015. It was a local level competition in Sydney, run by John Tran at City Strength. It was a well run competition where I was able to lift alongside my good friend Liz Craven and be coached on the day by a great platform coach, and another friend, John Paul (JP) Cauchi as well as have my parents in the crowd.
I started the day off a little shaky. I missed my last squat and with five competitions under my belt in 2015, there was not one where I got my last squat. This is something I am going to really work on this year. I have done my final attempt in the gym SO MANY TIMES. I've realised I am just not putting enough oomph in to it on competition day.
Due to a technical error, it took a long time for me to get the start command on my first bench press. My own fault. I had started to creep in a bad habit in training of not keeping my feet flat on the floor. A big NO NO in competition and it made my first attempt quite challenging due to waiting for so long. So challenging that it made me feel quite disheartened, so that I totally missed my second attempt – it didn't even leave my chest. However, after some words with Liz and JP I came back and smoked it on my third attempt. To me, this really shows how much your mental game matters in competition.
With the deadlifts I made sure I was in the right headspace. I put on my headphones in between warming up and between attempts and smoked all three lifts. Finishing the day on a high!
I finished the day placing 2nd in the 52kg weight class and 2nd overall across all females. I was able to reach my year end goals of over a 400 Wilks score (with 404.45) and a 140kg deadlift. So all in all, I was stoked with how the day finished.
Below are videos of my best lifts on the day. I am now back in training and looking forward to an even stronger 2016!
Squat: 117.5kg

Bench: 65kg

Deadlift: 140kg