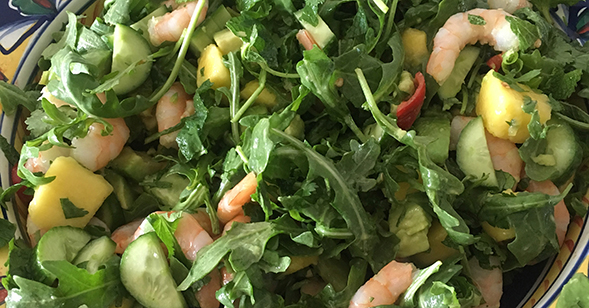 Prawn and Mango Salad
This isn't my own recipe, but i made it recently for an event, then again for myself because I enjoyed it so much! Great dish for the warm Australian weather!
Ingredients:
1kg cooked Australian tiger prawns (or 500gm of already peeled prawns)
2 large mangoes, diced
1 avocado, diced
120gm bag of baby rocket
1 Lebanese cucumber, chopped
1 bunch chopped fresh coriander
1 bunch chopped fresh mint
2 tbsp lemon juice
1/4 cup extra virgin olive oil
2 tsp honey
1 long red chilli, chopped (or more for extra tang).
Directions:
Peel and devein prawns.
Mix together in a cup, lemon juice, olive oil, honey and chilli.
Place all other ingredients in to a large salad bowl and toss together.
Pour over dressing, and then toss through the salad.
Recipe serves 4-6. Source: Woolworths, Australia.