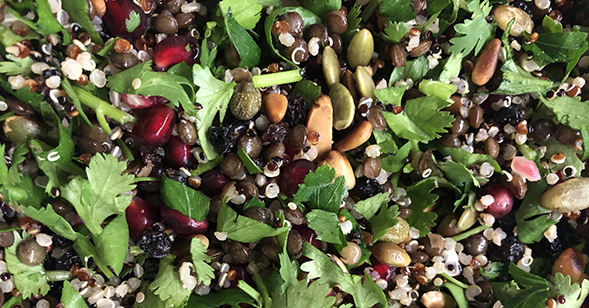 Hellenic Republic Cypriot Grain Salad
Below is a recipe that I originally came across on goodfood.com.au. I would have to say it is one of my all time favourite salads. It's a little fiddly, but definitely worth it!!!
Ingredients:
1 bunch coriander, chopped
1 bunch parsley, chopped
1/2 red onion, finely diced
1 cup quinoa
1/2 cup puy/french lentils
2 tbsp toasted pumpkin seeds
2 tbsp toasted slivered almonds
2 tbsp toasted pine nuts
2 tbsp baby capers
1/2 cup currants
1 pomegranate, deseeded
Dressing:
1 cup low fat Greek yoghurt
1 tsp ground cumin
1tbsp olive oil
Juice of 1 lemon
1 tbsp honey
Directions:
Cook quinoa and lentils separately in boiling water until both just cooked, as per directions on packets.
Drain well and allow to cool.
Mix the yoghurt, ground cumin, olive oil, lemon juice and honey until combined. Put to the side.
In a medium bowl, place the coriander, parsley, red onion, quinoa, lentils, toasted nuts, capers, currants and pomegranate. Mix well.
Serve with a spoonful of yoghurt dressing on top. Salad goes great with grilled meat or fish.
Delicious!