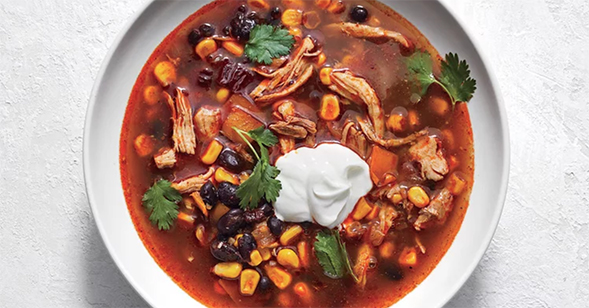 Slow Cooker Tex-Mex Chicken
I came across a variation of this recipe on Cooking Light, but changed it to suit my tastes.
I love using my slow cooker, it's a great way to help with meal preparation for a busy week. A big slow cooked meal, will serve 6 meals for Peter and I, and that covers us for a few days.
The recipe below is super easy, and all you need is about 6 hours for it to do it's thing, and then it's all ready to enjoy!
Ingredients:
1kg boneless chicken thighs
1 x 400gm can black beans, drained
1 x 800gm can diced tomatoes
1/2 red onion, finally diced
1 x green capsicum, diced
1 x red capsicum, diced
1cup frozen corn kernels
200gm can chilli in adobo sauce (found in the Mexican section of major supermarkets)
1 x bunch coriander, chopped
Greek yoghurt to serve
Directions:
Combine all ingredients, except for the coriander and the yoghurt in to a slow cooker, and mix together. Cover and cook on a low heat for six hours. Once cooked, mix in corriander. Serve in bowls with a tablespoon of greek yoghurt. Serves six.
Enjoy!