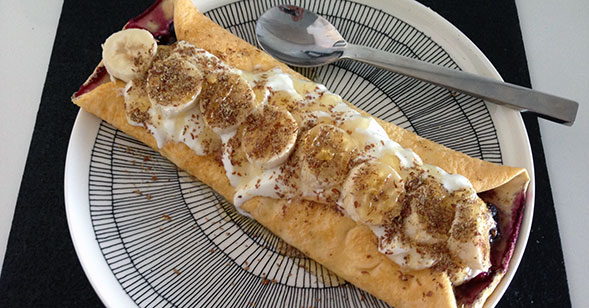 Berry omelette recipe
I love omelettes. I have at-least one every day, sometimes two! I love both savoury and sweet ones. You name the fruit or vegetable and I could almost guarantee you that it could go in an omelette! Using a mixture of a full egg and egg whites, omelettes can be a nutritious high protein, low fat meal.
Below is a delicious berry omelette recipe that I make quite often, generally as a sweet afternoon snack or even a dessert! Depending on how hungry I am, I will sometimes cut it in half and have the omelette over two meals.
Ingredients:
Canola oil spray
One whole egg
1/2 cup of egg whites (you can buy carton or frozen egg whites from your local supermarket. They have become a staple in my weekly shopping!)
1 tbsp of ground cinnamon
1.5 cups of your favourite kind of frozen berries (blueberries, raspberries, mixed berries etc)
2 tbsp of low fat natural yoghurt (I use Chobani yoghurt)
1/2 chopped banana (optional)
1 tbsp of honey
1 tbsp of flaxseed meal
Instructions: 
Place a large round pan on to hot stove top and grease the pan lightly with canola oil.
Whisk egg and egg whites together using a whisk or a bullet machine (such as a 'magic bullet').
Pour eggs in to pan and allow to cook for 2 minutes.
While the eggs are cooking, defrost frozen berries in the microwave for approximately one minute.
Sprinkle cinnamon on to egg mixture.
Spoon berries on to egg mixture down the centre of the omelette.
Flip one side of the omelette over the berries and then the other side so that the berries are folded in to the middle of the omelette.
Turn stove top off and remove omelette from the pan using an egg flip at each end to lift out and place on to a nearby plate.
Spread yoghurt over the top of the omelette then drizzle with honey and sprinkle with flaxseed meal.
Happy (healthy) eating!