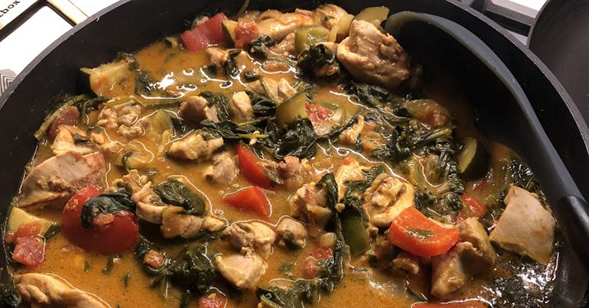 West African Chicken
A client of mine shared this recipe with me awhile back and now it is a staple in the many regular dishes I make, with my a couple of my own adjustments. This is really tasty and easy to make. It also has a small amount of peanut butter in it, which I love, as it caters to my peanut butter cravings, without going overboard. Enjoy!
Ingredients:
1 tbsp olive oil
1 brown onion, diced
1kg chicken thigh fillets, diced
2 zucchinis, sliced
1 green capsicum, sliced
1 red capsicum, sliced
2 cups frozen peas
2 tsp curry powder
400gm can crushed tomatoes
3 tbsp natural peanut butter
2 tsp vegetable or chicken stock (I make my own, but you can also use cubes from the supermarket)
1 bunch coriander, chopped
Directions:
Heat oil in a large based pan and fry onion for 2 minutes. Add chicken and cook, stirring for a further 5 minutes, or until golden.
Add zucchini, capsicum, peas and curry powder and cook, stirring for 2 minutes.
Add crushed tomatoes, peanut butter and stock, stir in with other ingredients. Bring to boil, cover and simmer for 20 minutes, stirring occasionally.
Mix in coriander when serving.
Serves 5 – 6.