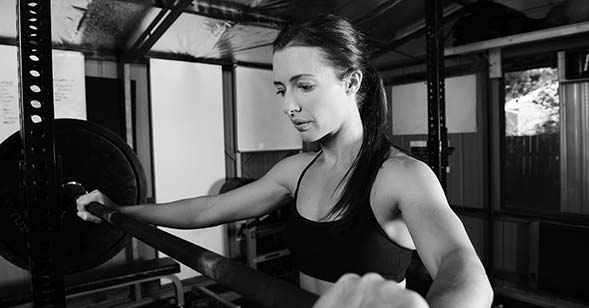 Don't Let Goals Stop Your Progress
Every Saturday morning I get up early to do my powerlifting training. Last Saturday was no different, except for the fact I was testing out my max competition lifts, all in the one training session. I hadn't done this since my dismal performance at the Australian Powerlifting Championships in March so I was a little nervous about it. I told myself though, that I shouldn't focus on a particular number, but just get in there and try my best for every lift and keep going until I knew I had no more. It was a great session and even with training and working all week, I achieved PB's in all three lifts – 110kg squat, 57.5kg bench press and a 115kg deadlift.
It's a great feeling when all of your hard work and perseverance pays off. For a long time, I felt I was going backwards with my lifting and lost all my confidence. I struggled, I lost motivation, I questioned whether I wanted to keep doing it. I would look to the next competition and hope it was the one where it would all come together and work for me. I was spending too much time hoping for success and not on the work to get there.
I realised at the Australian Championships that I needed to get back to basics, get back to just enjoying my lifting and focus on the process. I was trying to rush for results. I knew if I just went back and focused on the day-to-day process of going into the gym and training hard, the results would eventually come. I put aside my goal of increasing my lifting total and just went into the gym and did the best I could for each and every session. Some days I was flat and tired and others I felt on top of the world. But however I felt, I would put in the best I could for that day and not worry about the numbers.
This new way of thinking has helped me get back to enjoying lifting. It has built my confidence and helped me lift more than I have ever done before. It wasn't an easy road, there have been bumps along the way, but by putting my goals to the side and focusing on the process, I am now a much better lifter.
These personal learnings of mine extend beyond powerlifting. If you're looking to lose weight, be fit, be strong, be healthy, change your thinking and focus on the process. If you want to lose 10kg and you weigh yourself every day and see no results, you'll panic, you'll look for short cuts, you'll get depressed, you'll get unmotivated, you'll wish for results to come by themselves and you may even give up. Focus on the day-to-day. Eat well, exercise and enjoy it! By all means have a goal – that's what got you started in the first place, but let it fade a little into the background. If you can enjoy the process you are more likely to succeed.