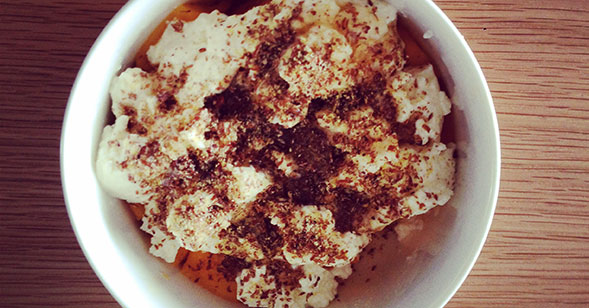 Healthy desserts – yum, yum!
Desserts are generally seen as a 'naughty treat', but they don't have to be! I eat dessert most nights of the week. I love sweet things! But desserts don't have to be unhealthy, in fact they can be very highly nutritious!
Below are just a few easy recipes that are fast to make, delicious and nutritious.
Summer fruits with low-fat ricotta (serves 2)
Ingredients:
250gm diced mango, peaches or pineapple
250gm low fat ricotta
1tbsp flaxseed meal
Drizzle of honey
Sprinkle of ground cinnamon
Instructions:
Place the fruit in two bowls, with the ricotta on top. Sprinkle over the flaxseed meal and cinnamon and drizzle on the honey.
Tip:
Another great way to have this dish is to blend all but the flaxseed meal in a blender or bullet machine. This will whip it all together in a smooth consistency. Serve in a wine/drinking glass for extra flair and sprinkle the flaxseed meal on top. Delicious!!! You can also have this dessert all year round. Not just in summer. Frozen fruit is just as delicious.
Berry sorbet with yoghurt (serves 2)
Ingredients:
3 cups of your favourite frozen berries
2 tbsp orange juice
4 tbsp low fat greek or vanilla yoghurt
1tbsp flaxseed meal
Instructions:
Spoon yoghurt into bowls/glasses and sprinkle with flaxseed meal. Place all berries and orange juice in to a bullet machine or blender and blend on high for 20-30 seconds. Spoon the sorbet into the bowls.
Choc-raisin yoghurt (serves 2)
Ingredients:
2 cups low fat greek yoghurt
2 scoop (approx 30gms) of high quality chocolate whey protein supplement
1tbsp flaxseed meal
1/2 cup of raisins
Instructions:
Spoon the yoghurt into a bowl and mix in protein. Then mix in the raisins/cranberries. Place in to two separate bowls and sprinkle with flaxseed meal.
Tip: 
Cranberries are a great substitute for raisins. Chopped walnuts can also be added for some extra crunch.