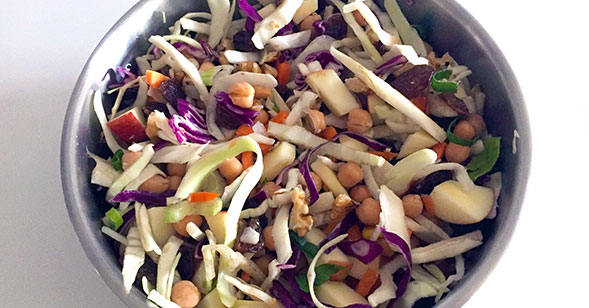 Coleslaw salad recipe
This recipe isn't going to win any culinary awards, but it is one that I make every week, as a go-to meal for when I don't have any leftovers for lunch or have no other meals prepped. I really like this simple salad and it's quick and easy to make.
Ingredients:
400gm bag of pre-packaged coleslaw mix
400gm can of chickpeas, drained
1/2 cup walnuts, chopped
1/2 cup raisin
1 apple (any kind), chopped
2 celery stalks, chopped (if not included in the coleslaw mix)
Instructions: 
Place all ingredients in a large bowl and combine. Easy! I usually have this salad with a tin of tuna and a splash of balsamic vinegar. If I have any left over, I also like to add some roast pumpkin and sweet potato.
Enjoy!